erupture no.8
music reviews
media reviews
mel's rant
lancelot links
he's big! he's huge!


he's david foster wallace!
he's big! he's huge!


he's mungo!
current issue
the dusty archives
write me, baby
Hyper Inactive
or what I did over my summer vacation, by mel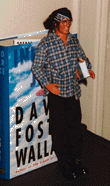 During an email conversation with Jeff Lester earlier this summer, I happened upon the idea of modifying a 12" action figure (or doll, as I call 'em) into my favorite post-modern author, David Foster Wallace. I found the perfect doll at Toys R Us, the casually dressed Totally Cool Ken Doll. He came in a blue plaid flannel shirt and was wearing black work boots! All I needed to do was give him his own copy of Infinite Jest, wrap a bandanna around his head, add some glasses and he was good to go!

Once I got Dave home, I realized that he seemed lonely. He needed another neurotic pomo author to keep him company. The logical choice was Elizabeth Wurtzel, author of two pomo whinge-fests Prozac Nation and Bitch. Liz is a Teen Skipper-Sister of Barbie figure with streaked hair, extra eyeliner and a new, more provocative top that coincidentally keeps falling off...

To add intrigue and humor to the duo I decided to make a Janeane Garofolo, comedian, star of The Truth About Cats and Dogs doll. While not an author, I thought her sense of irony and low-self esteem made her the perfect third addition to the series. Janeane is a Working Out Theresa doll with shirts and shorts borrowed from Ken, I mean DFW.

And finally, I thought we needed to add some real action to the inaction figures, so I decided to attempt a Mark Leyner. I figured that the over-blown author of My Cousin, My Gastroenterologist, Et Tu Babe, and The Tetherballs of Bougainville lent himself perfectly to being made into a doll, I mean, action figure. I found an alternate version of the Totally Cool Ken, one dressed in an overly shiny black suit and wearing black italian loafers! I gave him Working Out Terry's hand weights and took her walkman and tore off the headphones to make it look more like a Game Boy and Mark Leyner, action figure, was born.