erupture no.7
music reviews
media reviews
mel's rant
he's big! he's huge!


david foster wallace!
the dusty archives
write me, baby
Action Adventure Systems
an only mildly coherent essay by mel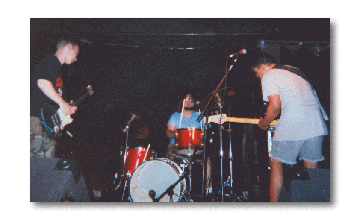 Action Adventure Systems are coming soon to a club near you!
Saturday, August 1 at the Gershwin Hotel (7 e. 27 st, 212-252-1005; come early for AAS and stay for FelliniÕs Basement!) and
Tuesday, August 4 at CBGBs (Bowery and Bleecker). Both shows are $5, you cheap bastards.
My friend Peter was trying to get me to see Action Adventure Systems for weeks. But I felt as if I didn't have time to squeeze an unknown variable into my busy active lifestyle. When I would press Peter for a description of the band, I'd get things like I dunno; they're loud! You should go to see them, if for no other reason than Cliff is an amazing drummer! Last time I saw them, stuff was destroyed!. I was like yeah, right. Any nematode can go around annihilating equipment. I finally got an adequate description from Robby of Caveman 2000 who told me they're like total death rock, man! Sounded good. So I went to see them.

Besides saying I was forever changed on a cellular level, I must relate to you that on some points, Peter was right. It's hard to describe what AAS sound like. Total death rock, sure. And loud. Almost melodic. Not quite pretty. Crisp. Corrosive? Exciting. Not like anything you're likely to hear on Mtv. But like something you should be hearing somewhere. Each time, after I see them, I've got their songs running through my head. For days. It's so unfair that not every kid hanging outside the 7-Eleven doesn't have an Action Adventure Systems tape in her boombox. Walter, Cliff and Tom are like my new unholy trinity--IÕm gonna worship at their altar every chance I get. It's some ride. And they drink midnight dragon.